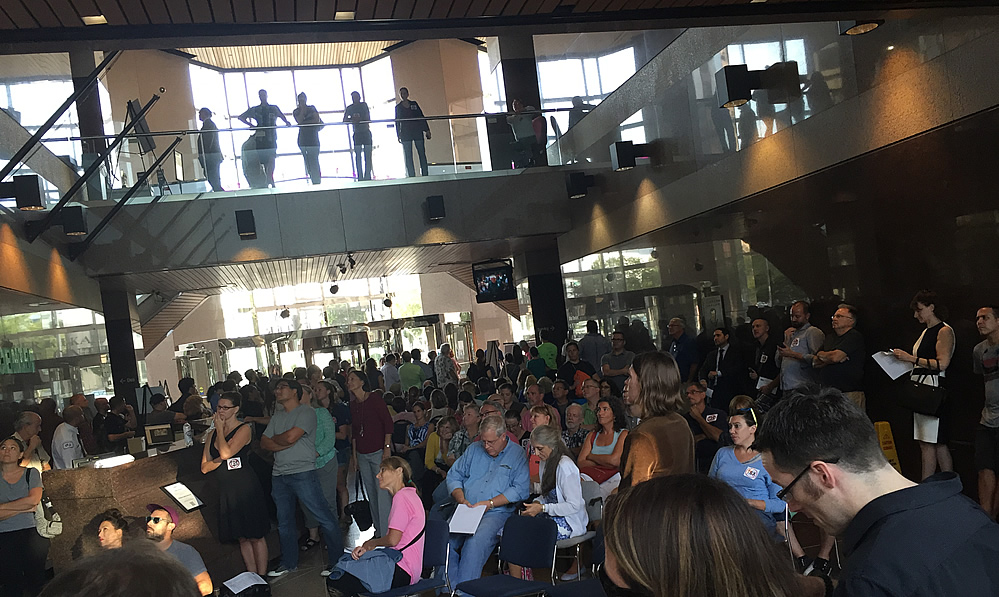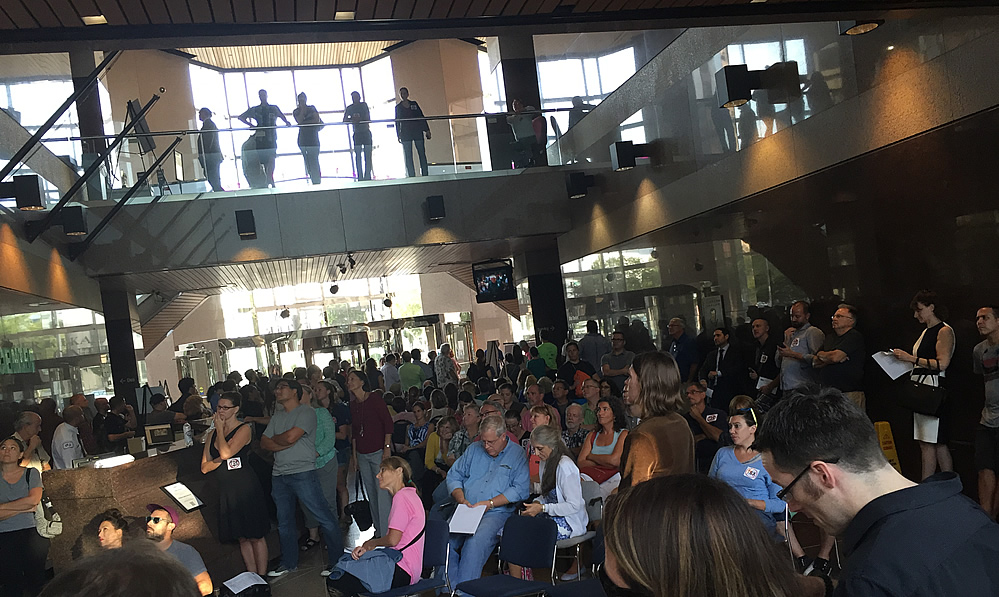 On Tuesday, Aug. 4, the community rallied and turned out to the MPO Board Meeting in force as part of the Turn Out Tampa- Stop TBX action.
Over 300 people showed up the meeting at the County Center in downtown Tampa. Over 100 spoke out against TBX. The meeting room, the board of county commissioners chambers only seats 90, so overflow was set up in the lobby and the meeting televised for attendees to watch.
After listening to public comments for over two hours, the 14 member board proceeded to vote on Line item 33, the inclusion of FDOT's Tampa Bay Express (TBX) project. Chairman Les Miller made a motion to include the project, but with conditions that he required of FDOT.
From the official transcript, Chairman Les Miller,  "THEREFORE, I'M GOING TO MAKE A MOTION HERE, I'M GOING TO PUT CAVEATS WITH IT.SOME PEOPLE MIGHT LIKE IT AND SOME PEOPLE MIGHT NOT AND WE WILL HOPEFULLY GET A SECOND SO WE CAN DISCUSS.
I WOULD LIKE TO MOVE THAT WE ACCEPT THE TIP WITH THE TBX PROJECT INCLUDED WITH CONDITIONS.
WITH CONDITIONS.
AND WITH THIS MOTION I ASK THAT OUR COMMUNITY REPRESENTATIVES AND THE FLORIDA DEPARTMENT OF TRANSPORTATION REPRESENTATIVES COME TO THE TABLE TO WORK TOGETHER TO ENHANCE THE COMMUNITY THROUGH THIS PROJECT.
AGAIN I WILL SAY THAT THE COMMUNITY REPRESENTATIVES AND THE FLORIDA DEPARTMENT OF TRANSPORTATION REPRESENTATIVES COME TOGETHER TO WORK TOGETHER ON THIS PROJECT.
I UNDERSTAND THAT THE 20‑YEAR‑OLD STUDY WAS DONE AND THE PROJECT WILL BE REEVALUATED AND WE'RE GOING TO HOLD FDOT TO THAT.
THAT THE PROJECT WILL BE REEVALUATED.
SO AS PART OF THIS REEVALUATION I ASK THAT FDOT LOOK AT THIS COMMUNITY IMPACT AND INCLUDE A ROBUST OUTREACH INITIATIVE TO INCLUDE, ONE, SIGNIFICANT SOCIAL AND PHYSICAL CHANGES IN THE PROJECT AREA.
SECOND, CHANGES TO IMPACT CAUSED BY THE PROJECT.
THIRD, ANTICIPATE POPULATION AND DEPARTMENT GROWTH.
FOURTH, LAND USE AND COMPREHENSIVE PLANS.
FIFTH, AND MOST IMPORTANTLY, THE PUBLIC AND EFFECTIVE COMMUNITIES AND COMMUNITY ‑‑ EFFECTIVE COMMUNITY AND COMMUNITY COMMITMENTS.
I ALSO REQUEST THAT FDOT WORK WITH THE CITY OF TAMPA TO LOOK AT THE POSSIBILITIES WITH THE FUTURE DESIGN OF REDESIGN OF FLORIDA AVENUE, TAMPA STREET THAT THIS COMMUNITY IS TO PROVIDE FOR MORE OPPORTUNITIES FOR PEDESTRIAN, BICYCLE AND TRANSIT OPERATIONS.
HAVING SAID THAT, FDOT HAS TO COME BACK TO THIS BOARD IN NOVEMBER AND MAY. IF THESE THINGS HAVE NOT BEEN DONE I WILL MAKE THE MOTION TO TAKE IT OUT OF THE TIP. YOU HAVE TO WORK WITH THIS COMMUNITY. WE CAN'T HAVE WHAT HAPPENED IN THE '60S.
WE'VE GOT TO WORK TOGETHER AND I'M HOPING THAT WE CAN ALL COMPROMISE AND COME UP WITH SOMETHING THAT WE CAN LIVE AND WORK TOGETHER IN THIS CITY AND IN THIS COUNTY.
IF WE WANT TO BE NUMBER ONE WE HAVE TO COME TOGETHER AND WORK BUT IF WE CAN'T COME TOGETHER AND WORK I WILL BE THE FIRST ONE TO SIT HERE IN NOVEMBER AND MAY OF NEXT YEAR AND IF IT IS NOT WORKING TO MAKE THAT MOTION TO REMOVE IT FROM THE TIP.
SO THAT'S MY MOTION."
There was discussion by Representative Montelione, whose motion to amend with further detail was not seconded. With that the board moved to vote on Chairman Miller's motion.  All members of the board voted yes to pass his motion to include TBX in the TIP with conditions, except for City of Tampa Councilman Guido Maniscalco who voted No – essentially the only board member who voted to exclude TBX from the TIP.
Download and read the transcription file (this is the immediate file available, that was used for closed captioning purposes).