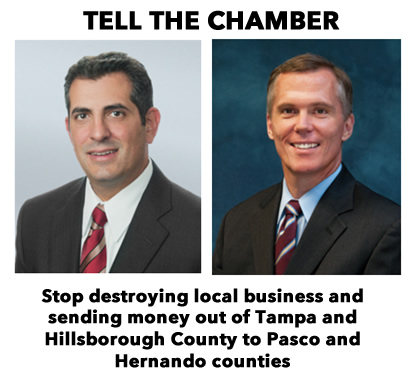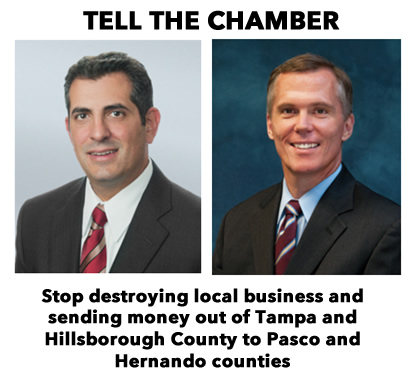 On August 4, at the MPO Board meeting, the Tampa Bay Express (TBX) plan was included in the Transportation Improvement Plan (TIP)- after record setting attendance by the public, the majority of which spoke out in OPPOSITION to TBX.
These citizens were ignored, and their demands disregarded- with only Tampa City Councilman Guido Maniscalco voting in agreement with the people.
We need YOUR HELP- it is time to tell these board members and other local leaders that taxpayers DON'T WANT TBX.
Let's start with telling the Greater Tampa Chamber of Commerce. Contact and tell them you disapprove of their stand.
CALL the Chamber of Commerce
Ron Christaldi, Chair, Greater Tampa Chamber of Commerce
Senior Partner, Shumaker Loop & Kendrick LLP
Phone: 813-221-7152
Fax: 813-229-1660
Bob Rohrlack, President/CEO, Greater Tampa Chamber of Commerce
Phone: 813-228-7777
Email the Chamber
Email the Chamber, attention Mr. Rohrlack, and tell him how very disappointed you are with his appearance and statement at the August 4 MPO Board meeting in support of Tampa Bay Express (TBX).
Use your own words, or feel free to use these key points:
I am contacting you as a concerned citizen. I was very disappointed in the Chamber's support of Tampa Bay Express (TBX) at the August 4 MPO Board meeting.
Did you read the TBX plan? Why are you advocating for destroying local business and sending money out of Hillsborough County and Tampa, to Pasco and Hernando counties?
When you step forward and claim on record at a public hearing that you are speaking for your 1200 members who employ over 500,000 people primarily in Hillsborough County, you really owe it to your membership to do more research before committing to such an economically precarious plan.
TBX is disastrous and will cause a chilling effect on economic development with endless highway construction.
Why are you in favor of TAXING citizens twice- once to build these lanes, and again to use them? How could you support this plan that leaves taxpayers, and business owners, on the hook for this questionable financing plan?
Have you reviewed the TBX toll revenue model to see if the revenue collected covers the debt service payment?
TBX prevents our region from being seen as a top tier region and attracting good employers with high wages. TBX represents the exact opposite of what young professionals and tomorrow's innovators, entrepreneurs and business leaders seek in a community- they will continue to NOT Stay in Tampa Bay. It will drive talent out of our area.
TBX encourages more sprawl development that drains resources, is not sustainable or affordable and increases the cost of doing business in the region. TBX will depress the economic growth and vitality of our area.
You need to re-examine what FDOT is claiming. If this plan is so sound, why does it have so much impact with no consideration of the negative impact to the business climate and to innovation?
TBX is the epitome of policy that flies in the face of your own transportation guiding principles. How can you say that you believe TBX is beneficial for the economic success, future development and wealth of the Greater Tampa region? TBX will create more congestion, prevent efficient commuting and harm business prosperity and quality of life for residents.
The Chamber should be ashamed that it is ignoring its own Transportation Guiding Principles and keeping the economy of the region enslaved to a 20th century mentality and car travel-only plan.
—-
Take all our Actions. Attend meetings- see the calendar. Thank you for fighting for a better plan, a better future- together, we can Stop TBX.