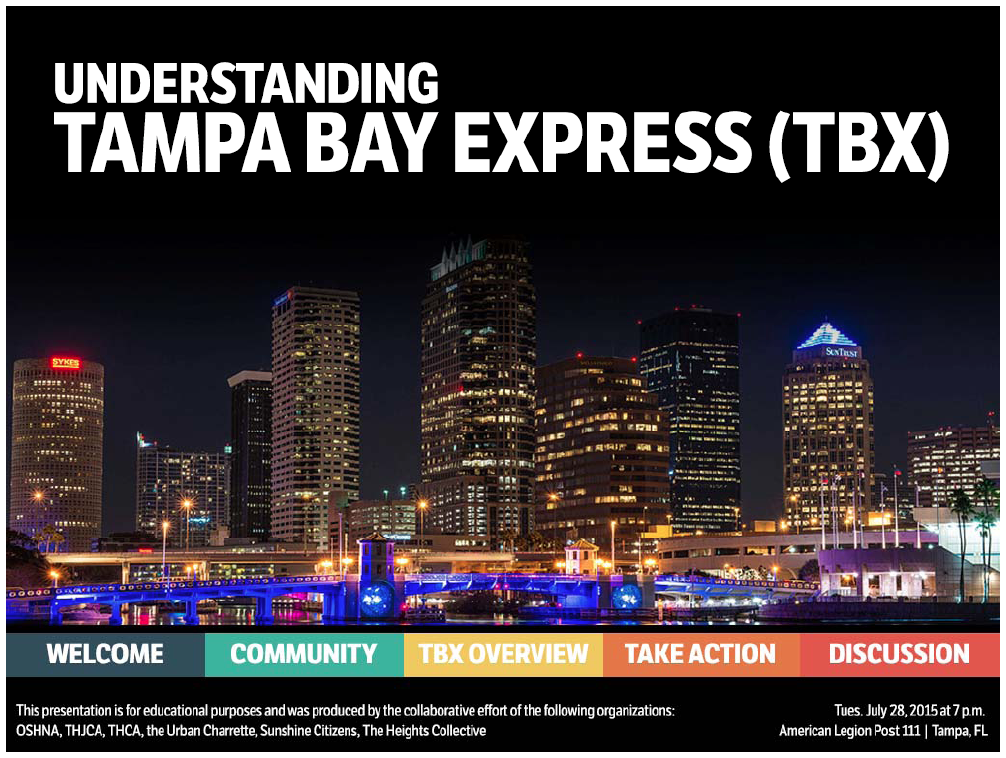 The TBX Toll Lanes Town Hall Meeting was an overwhelming success! Over 250 concerned citizens packed a standing room only meeting hall at the American Legion Post #111 in Seminole Heights.
For the past several weeks, we have worked to develop an educational forum about FDOT's Tampa Bay Express (TBX) project, in conjunction with our community partners, Old Seminole Heights Neighborhood Association, Tampa Heights Junior Civic Association, The Heights Collective, the Urban Charrette,
In preparation for our goal to PACK the MPO Board Meeting on Aug. 4 with HUNDREDS of people, we designed this educational forum for anyone who wants to know more about FDOT's Tampa Bay Express (TBX) plans to put toll lanes on Bay Area interstates.
If you couldn't make the meeting, you can DOWNLOAD the presentation now.
When's the last time you heard of good results coming from a process where the government spends billions of taxpayer dollars without a vote, without strong oversight of the process, and without strong community support? Read the presentation and learn why this project isn't right for the Tampa Bay area- and take action!
Please come to the MPO Board Meeting, Tuesday, Aug. 4 at 5:30 p.m. County Center (601 E. Kennedy Blvd. Tampa) and Tell the Board- Remove TBX from the TIP!